Log: 812nm
Engine: 431h
Position: N58' 54.1" E17' 26.7"(south of stockholm)

Still not too much to write home about. I'm just south of Stockholm and decided to take a break. I'm on holidays after all. So I spent more time listening to audio books, tanning or rummaging through the interwebs.
I'm getting more confident with stuff but sailing is throwing new challenges at me constantly (or I pick them). I finally installed a solar panel. A sorry resemblance of what I would like to run but this boat is small and it is difficult to fit a panel. It's almost enough though, since I have no fridge and no 12V computer (only a tablet) and most lights are converted to LEDs I don't need much Wattage. But I miss the solar array of the van. And the fridge.
After some nights of worrying I'm more comfortable with lying at anchor. Mostly because retrieving the anchor is quite some work in most cases. So it sticks there pretty good, the ground is mostly composed of some clay/mud mixture. And there are no waves in the Archipelago.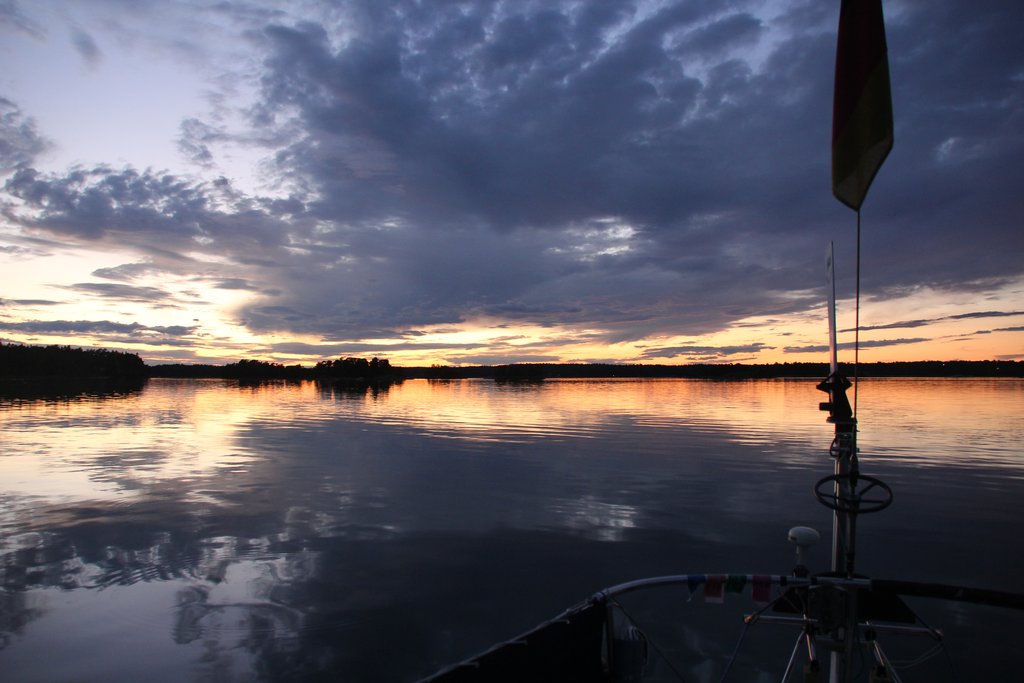 Different types of mooring still give me trouble at times. Luckily it's high season right now, so there is always a crowd of spectators when I'm drifting around in the harbor preparing/trying to get into a berth. So far I love the swedish Y-style finger berth because every boat has it's own box so it's impossible to crash into somebody else. Anchoring with a stern buoy or anchor still gives me troubles. Doing it single handed there seems no other way then leaving the helm, walking forwards, jumping over and attaching a line. I don't like that. And I still haven't dared to directly anchor to a rock in the wilderness like most locals do. All in good time I guess.
On the upside I'm getting more used to sailing. When I began sailing close hauled with quite some list sort of creeped me out. My brain said "It's ok" and my gut said "I'm afraid". I didn't touch my genoa for the first weeks because I was afraid of the wind becoming to strong and loosing control of the boat/changing headsails under wind. Yesterday I caught myself bashing 5.5 knots upwind under genoa leisurely listening to an audio book while seawater was filling up my kitchen sink through the drain and was just about to splash out of there. This hasn't happened before, so I guess the boat never leaned over that far yet. After a short "ooopsi" I just closed the seacock of the sink and adjusted the main traveller to reduce the list a bit. Yeah, I'm getting used to that shit…
My biggest problem so far has been loneliness I guess. Not just for the complications of single handed sailing but also for a lack of company. You meet sailors in every port but most of them live quite a different life. It's difficult to connect to them. They give me weird looks while they wash their boat every day. I give them weird looks for wasting so much water. My boat is too shabby, my clothing to used up, … Most folks could be my parents of even grand parents.
But every once in a while there are some folks who get me. Like one couple well in their 70s on a 50 year old steel vessel. Some passer-by described the boat as "she has seen things". Yep, they are sailing her for 40odd years and after circumnavigating the world they now have a look at the places they speed by on previous jouneys, like the hanö-bay for example. I spent at least an hour just looking at the boat and the gazillion little details they added over the years.
And they're tough as nails. For example constant problems with sea-sickness is no reason not to sail around the world. And Inge had the best reaction to my story so far. She basically was just surprised that other folks see what I'm doing as daring, brave, haphazard, stupid or whatever. "You did get training, your vessel is suitable for single handing, so where is the problem?" she asked. It is weird, most seasoned sailors I meet approve of what I'm doing while most hobbyists more or less disapprove. I guess listening to the pros really is a generic piece of advise.