Does it ever eeend? -- AvE
I finished the kiel canal without major problems. Only the starter acted up more and more. I left the engine running while waiting for the kiel holtenau lock to open. After that I stopped in the next harbour to barter a crate of beer for some spare parts. Oh, I love the interwebs for these kind of things.
Then I took of the starter solenoid, cleaned and oiled it. Still not working properly. Took of the whole starter, greased the shaft. Still not working. Took it off again, completely disassembled it and found out the free running thingy slipped (imagine your mountainbike. Normally the rear wheel hub runs freely when you are not treading and engages if you are treading allowing you to accelerate. This specimen runs freely (under load) in both directions).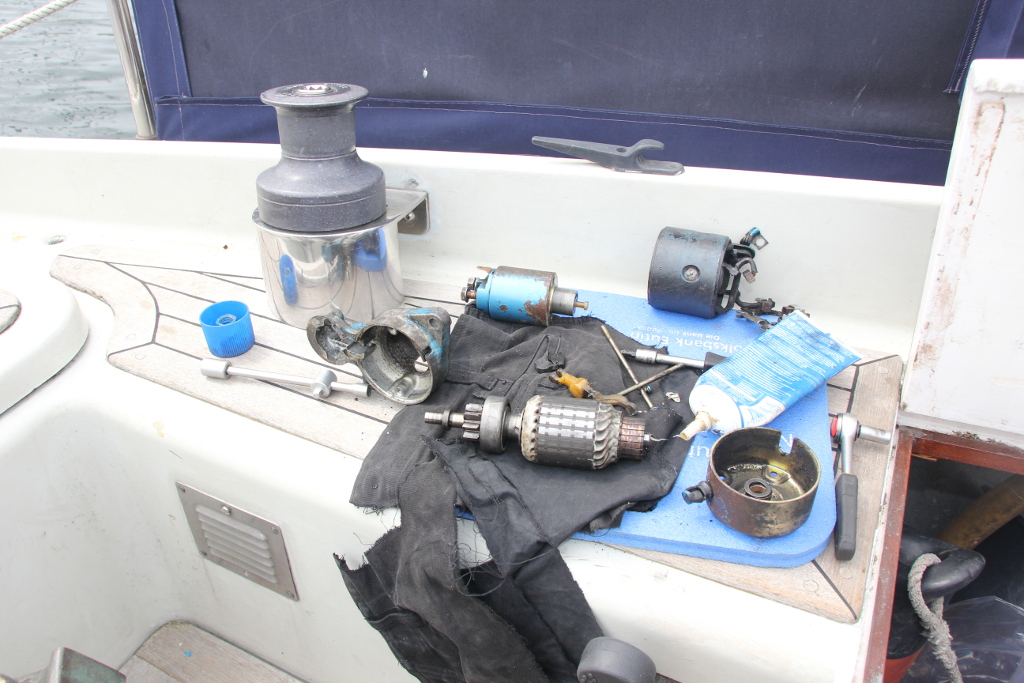 So I have to order a part. I'm still waiting for a quote from the engine manufacturer / their dealership. In the meantime I did some digging on the web. Mr. Nanni from Italy is making his marine engines from parts of Mr. Kubota, Japan. Mr. Kubota is some relative of Mr. Mitsubishi, so they sourced some of their starters there. Mr. Mitsubishi is kind of the Japanese Version of ACME, and sold the exact same starters to Mr. Suzuki and Mr. Toyota for the LJ80, SJ410 and 70ties Corolla. So you can either go to some Marine Engine Guy paying him to order at Mr.Nanni who will order at Mr. Kubota who will order at Mr Mitsubishi or somewhere else. That's time consuming and expensive. Or you take Mr. Mitsubishis Part Number (which Mr Nanni was too lazy to scrape it off) and go to any car parts store and order from any supplier available. Cut out the middle man and remove the "marine" from the equation means great price reduction. But also great risk. Today I got a spare part which matches the part numbers only "one-way". The delivered starter has the right gear, flange and such but is much larger. Too long and too wide. I actually went to a car part store in person, put the old starter on the counter and they ordered the new one. My starter is part number M2T30481, the delivered a replacement for M2T30581. The fun part is that my starter can always replace the other one (same oompfh, flange, … smaller envelope) and the other one can sometimes replace my starter (if there is enough space). So yeah, I was afraid to mess up the order and so paid extra to let a specialist fuck it up. Classic. Next time I might just order it online in the first place, many folks actually post pictures of the wares making it quite easy to distinguish subtle differences.